About Us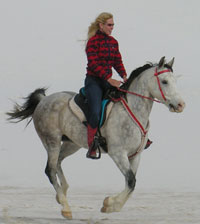 Flight Leader Farm is owned by David Kaden and his wife Tracy Webb Kaden. David owns and operates Specialized Saddles and it's sister company TW Saddlery.

Tracy runs the horse operation as well as working as a consultant to individuals interested in purchasing high quality performance horses. Please click here to contact Tracy.
---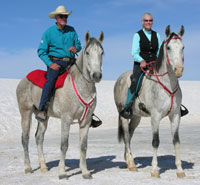 Tracy's parents are the foundation of Flight Leader Farm. Hank and Cris' warm and friendly personalities make first time visitors feel right at home. The entire family is very experienced in the horse industry.

Cris runs the pit crew at endurance races and is available to help first time riders with recommendations for proper clothing and moral support.

Hank is a member of the American Society of Equine Appraisers and has worked as a expert witness in numerous horse related legal cases. He is available to testify in Equine related litigation and tax appraisals. Please click here to contact Hank hwebb@elp.rr.com
---
The farm is located on the Texas New Mexico border in the town of Canutillo, Texas. Sitting at the base of the Franklin Mountains and less than one mile from the Rio Grande river. The beautiful Mesilla Valley provides an abundant source of high quality hay for the horses at Flight Leader Farm and yummy Pecans to its visitors.